Chain Link Gates for Chain Link Fence
Woven Mesh Chain Link Netting Gates, Styles, Specifications, Fittings, Installation Steps and Applied Fencing Types
Chain link fence gate make an important part for perimeter fencing system. It allows pedestrians and autos to go in and out of the enclosed areas or sites conveniently while remains a safe barrier. The gate is usually made of chain link mesh panels made from galvanized steel wire or plastic coated wire, then framed with tubes and fixed with rollers. The chain-link gates are very much used together with chain link fencing for houses, edifices, ranches and farms. Yudemei supplies tie wire, post caps, gate finger, rings and other accessories for installing the gates. We will introduce a 6 step method to form a fencing safety gate with chain link netting below.
Chain link gates can be custom made into a range of styles, gate height and colors. We also mainly walk-in gates, single swing gates, double swing gate, cantilever chain link gates without roller, or with roller.
Walk-in Gate:


Single swing chain link gate can be made with a larger opening. It is open only by ensuring there is enough space.
Single swing gate can be automated.
Double swing gate can be automated.
Two Swings and a down pole connected to close the gate.
Cantilever Chain link Gate:
This gate can also be made with automated open.
Cantilever Chain Link Gate with a roller:
Rolling on the ground, connected to a rail fence. These doors do not automatically open, you need enough space to rollback.

Specification of Swing Type Chain-link Netting Gates:
The type of the vertical-hinged gate/door
Single leaf
Double leaf
Height of gate panel (m)
1.0m,1.2m,1.5m,1.8m,2.0m
Width of gate panel (m)
Single leaf:1m,1.2m,1.5m
Double leaf:2.0m,3.0m,4m,5m,6m,8m
Gate frame Surface
Square tubes:
35x35mm,40x40mm,50x50mm,60x60mm
Surface Treatment
Galvanized Steel pipe+high adhesion electrostatic spraying processing
Colour
green, blue, yellow, white, red etc
Accessories are supplied for installation: post cap, tension bar, tension band, gate finger and more.
Installation of Chain Link Fencing Gates:
Step 1: Install the line post and terminal posts by using of tension bands, brace bands and bolts.
Step 2: Attach line post caps. Join the top rail with swaged end. Plain end of the top rail fits into rail end fittings on the terminal post.
Step 3: After assembling framework as above, unroll the chain link netting fabric on the ground along the fence line starting at terminal post.
Step 4: Then slide the tension bar through the last link in the fence fabric and attach this combination to the terminal post using tension band and bolts.
Step 5: Adjustment of mesh netting. If more or less netting fabric is required to span the opening, an additional amount can be connected or removed.
Step 6: The chain link fence netting shall be on the outside face of all posts and loosely attached to the top rail by a tie wire.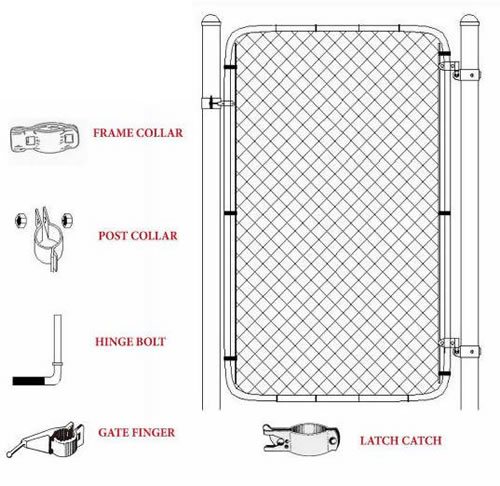 The chain-link gates are popularly used together with fences in the following fields:
Fences for houses, edifices, ranches and farms
Boundary fences for sports yards
Football and soccer yards fences
Chicken yards, zoo and gardens etc.